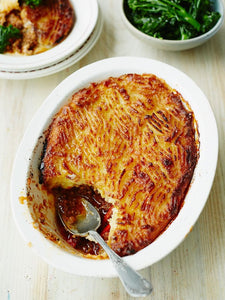 In the running for the ultimate comfort food. Soft, slow-cooked, rich beef mince with soft mash and melted cheddar top. Enough said.
Serves 2. Best served with peas or broccoli.
------------------------------------------------------
Allergens: Celery, Gluten (Barley, Lea & Perrins), Sulphites (wine), Milk
Key Ingredients:  onion, carrot, celery, garlic, beef, parsley, rosemary, tomatoes, red wine, beef stock, Lea & Perrins, potato, butter, milk, cheddar, salt, pepper
For further information on allergens in our products please see the Allergens Information page.