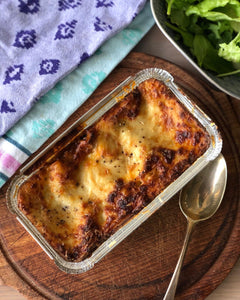 It's hard to beat a really good lasagne, and everyone knows that means having the right balance of rich, soft beef mince and plenty of creamy bechamel. We think we've nailed it... but we'll let you be the judge!

Serves 2. Best served with salad or broccoli (and some garlic bread!)
------------------------------------------------------
Allergens: Celery, Gluten, Sulphites (wine), Milk, Eggs (pasta)
Key Ingredients:  onion, carrot, celery, garlic, beef, rosemary, tomatoes, red wine, beef stock, tinned tomatoes, Lea & Perrins, pasta, butter, flour, milk, cheddar, nutmeg, salt, pepper
For further information on allergens in our products please see the Allergens Information page.