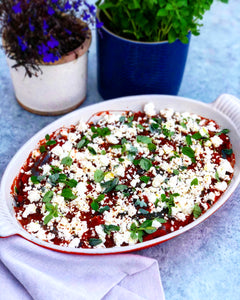 A taste of the Mediterranean - this classic Greek dish will transport you to summertime and the tavernas of Greece. Juicy King Prawns baked in a chunky tomato sauce with Kalamata Olives, scattered with Barrel-Aged Feta, Greek Basil, Fresh Oregano & Aleppo Chilli. Full of flavour and pleasingly healthy at the same time.
Serves 2. Best served with orzo or rice and a fresh salad. 
------------------------------------------------------
Allergens: Crustaceans, Milk (sheep & goat)
Key Ingredients: onion, garlic, ginger, tinned tomatoes, sun-dried tomatoes, king prawns, basil, oregano, chilli flakes, olives, feta
For further information on allergens in our products please see the Allergens Information page.