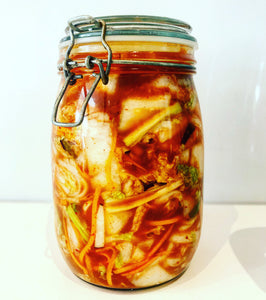 Kimchi is a staple with most meals in Korea and becoming increasingly popular over here. Partly because it's delicious, and partly for its health benefits! Made by fermenting vegetables in a tangy, chilli sauce, it's naturally packed full of fibre, vitamins and minerals and lots of good bacteria.
Crunchy, spicy, delicious and excellent for a healthy gut... what more could you want?
Serves 2. Best served as a side with Asian recipes or as an alternative to pickles with a deli-style lunch.
------------------------------------------------------
Allergens: Fish (fish sauce), Gluten & Soya (traces, Gochujang)
Key Ingredients: Chinese cabbage, carrot, radish, spring onion, ginger, garlic, fish sauce, sriracha chilli sauce, chilli, rice vinegar, sugar, salt
For further information on allergens in our products please see the Allergens Information page.